The best movies, however, bend the rules of the vampire sub-genre, as the vampire naturally offers itself up to a many interpretations. Here are the 20 best movies to feature vampires—some classic, some twisted, some sexy, and all indelibly alluring.
style="display:inline-block;width:300px;height:250px" data-ad-client="ca-pub-6419161899629892" data-ad-slot="7232580500">
10
Only Lovers Left Alive (2013)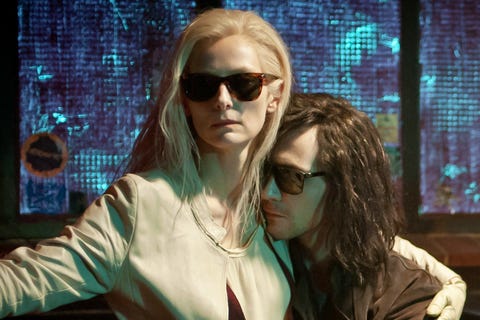 Adam (Tom Hiddleston) is a depressed musician who cannot handle the existential dread of everyday life. But a reunion with his devoted lover Eve (Tilda Swinton) reignites his passion for life—that is until her wild little sister comes in to shake things up. Oh, and of course: They're vampires, having lived and loved and loathed humanity for centuries.
9
The Lost Boys (1987)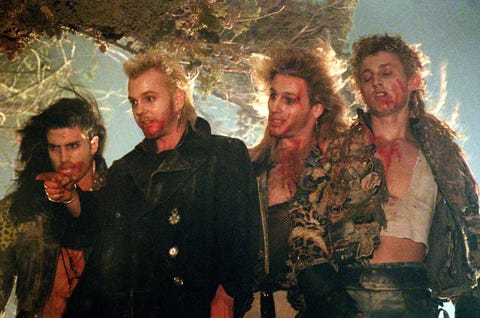 Blood-suckers got a punk-rock spin with this late-'80s Joel Schumacher horror-comedy, in which two brothers (Jason Patric and Corey Haim) discover that their new town is controlled by a gang of vampires led by a bleach-blond Kiefer Sutherland.
8
The Hunger (1983)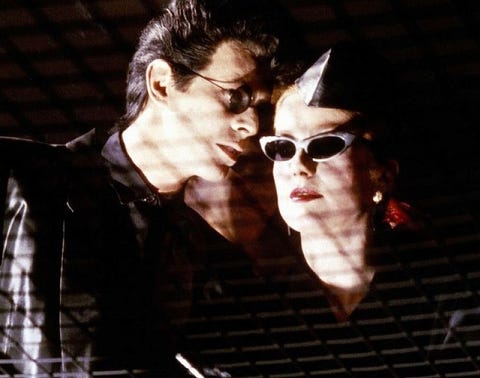 Catherine Deneuve plays a seductive immortal in early '80s New York City—a woman who is as stylish as she is beautiful. When her companion (David Bowie) begins to fade, she sets her sights on a new lover: a doctor played by Susan Sarandon.
7
Nosferatu the Vampyre (1979)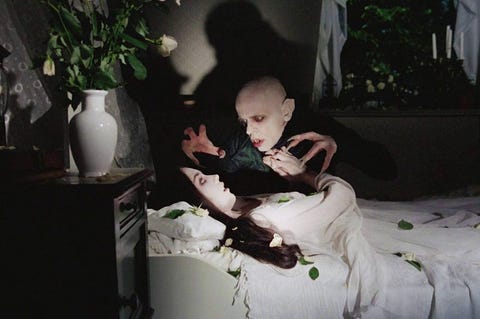 Klaus Kinski and Isabelle Adjani star in Werner Herzog's remake of Murnau's Nosferatu, a stylistic marvel that earned critical acclaim and box office success across the world.
6
A Girl Walks Home Alone at Night (2014)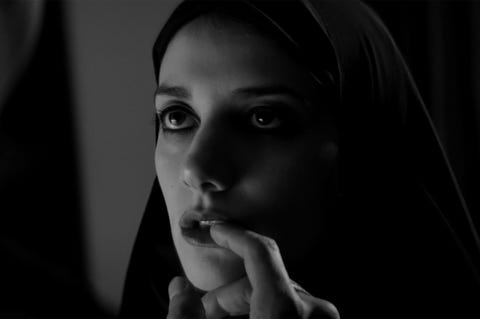 Ana Lily Amirpour's directorial debut is described as "the first Iranian vampire Western." Sheila Vand stars as the titular unnamed girl who roams around a small Iranian ghost town, stalking its lonely residents.
5
Cronos (1993)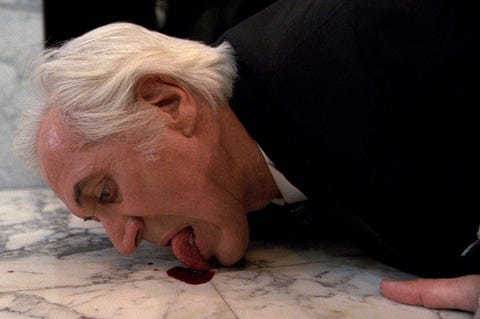 Guillermo del Toro launched his genre-bending career with this tale of an antiques dealer who discovers a 16th century contraption that stabs anyone who opens it, giving that person eternal youth. But it comes with a price—the desire for human blood—and a pair of men who are hunting for the device.
4
Let the Right One In (2008)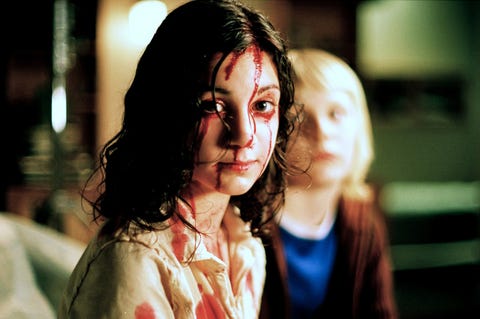 The 12-year-old Oskar lives a lonely life in Stockholm with his mother, where he's regularly bullied by his class mates. That changes, however, when new neighbors move in next door: an older man named Håkan and a young girl named Eli. As Eli and Oskar begin a friendship and they hang out at night, Oskar soon realizes that his new friend isn't a cute young girl after all.
3
Interview With the Vampire (1994)
Neil Jordan's adaptation of Anne Rice's novel is super '90s, with heartthrobs Tom Cruise, Brad Pitt, and Antonio Banderas playing brooding immortals dealing with the neuroses that comes with ever-lasting life (and a desire for human blood). It's probably one of the most homoerotic movies ever made, and it introduced the world to Kirsten Dunst, who plays a maniacal child vampire.
2
Bram Stoker's Dracula (1992)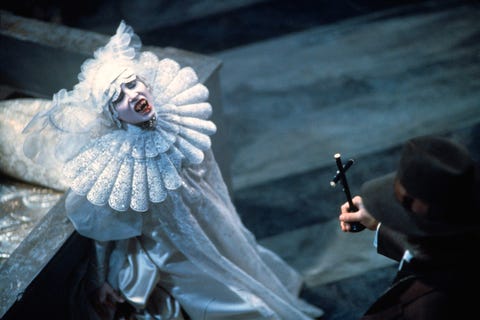 You could call this Francis Ford Coppola's Bram Stoker's Dracula, but that title would be too unwieldy. And while the famed Godfather director's adaptation of the seminal vampire novel does teeter off the edge into vampire mania, it's still a lush, faithful, and star-studded version of the classic horror tale with Gary Oldman delivering a tour-de-force performance as the blood-sucking villain.
1
From Dusk Till Dawn (1996)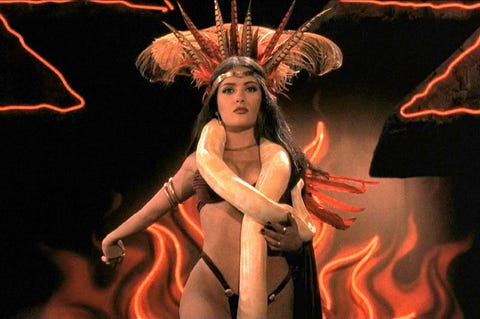 Robert Rodriguez directed this cult classic starring George Clooney and Quentin Tarantino (who wrote the script) as the bank-robbing Gecko brothers who cross the border into Mexico with hostages in tow. But when they arrive at the Titty Twister, a strip club in the middle of the desert, their hope for refuge is lost when the bar's patrons and employees are revealed to be vampires led by a ferocious queen, Santanico Pandemonium (Salma Hayek).